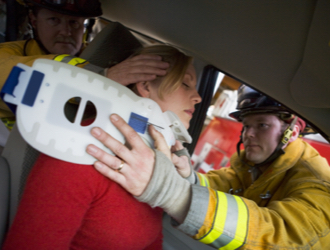 Personal Injury Lawyer in Boston
Getting into any type of injury accident is stressful and shocking, particularly when the accident was not your fault. You're likely confused, don't know what to do, and are suffering from serious injuries that are painful and expensive to treat.
This is an extremely difficult time for you and your family. You need a Boston personal injury lawyer who understands that. After an accident, an attorney at The Law Offices of Michael P. Joyce, P.C., can help ensure you take the right steps to protect your rights, and will guide you through the claims process to seek the full amount of compensation you need.
Contact us now to find out how we can help you. The consultation is free and there are no fees unless and until we recover compensation for you.
Common Types of Catastrophic Injury Cases We Handle
An accident can happen anytime and anywhere. When one does, accident victims become seriously injured. We handle many types of catastrophic injury cases, working hard to get those hurt the compensation they need.
Some of the most common types of injury cases we work on every day include:
Car accidents – Due to the fact that Massachusetts is a no-fault auto insurance state, some less serious crashes won't involve filing a lawsuit. Even when pursuing no-fault benefits, keep in mind that "your" insurance company is not looking out for your best interests. If you meet the state's serious injury threshold, you may be able to file a lawsuit to recover the additional compensation you need. These cases become even more complex, and our Boston personal injury lawyers are ready to help.
Truck accidents – Commercial trucks are larger and heavier than other vehicles on the road. When they get into an accident with smaller vehicles, it's almost always the people in the passenger vehicles that get hurt the most. With many potentially liable parties, large insurance policies, and extensive regulations, truck crashes require help from an experienced attorney to seek maximum compensation.
Motorcycle accidents – Compared to other motorists on the road, motorcyclists have very little protection when on the road. When bikers are in an accident with a larger vehicle, they are more susceptible to sustaining more severe injuries. Motorcyclists can be at a disadvantage in a personal injury case because insurance companies often use unfair stereotypes to minimize their payout. Our attorneys won't let them get away with it.
Bicycle and pedestrian accidents – Just like motorcycle accidents, when cyclists and pedestrians are hit by large vehicles, they almost always sustain serious injuries. Many motorists who hit bicyclists or pedestrians flee the scene. Even when a hit-and-run driver is never found, it may still be possible to seek benefits under the injured person's auto policy.
Dangerous and defective products – When products are defective, consumers can become seriously injured. This is particularly true with certain products, such as vehicles, medication, and appliances such as stoves and furnaces. Manufacturers are responsible for ensuring their products are not defective and safe for consumers to use. When they fail to do so, they can be held liable.
Accidents on dangerous property – Property owners and occupants have a responsibility to ensure their property is reasonably safe and in good condition for others to enter. When they fail to meet this duty, visitors can be injured. A premises liability claim could allow a person hurt on someone else's property to recover compensation for their losses.
Wrongful death – Sometimes accidents are so severe that victims don't survive them. When this is the case, certain close relatives of the deceased may be entitled to file a wrongful death claim. These claims are meant to compensate for the losses sustained by the surviving family, such as lost income, funeral and burial expenses.